Sorry to disappoint you Steve, but I've only got a Vox AC30 in my dreams...
My practice amp is a superb little Roland Micro Cube - tiny, 4 speakers, stereo and with built-in amp modelling, effects and a basic rhythm box. It's difficult to believe it's only 2.5W + 2.5W... it's loud enough for full band practices with drums & bass!
My gigging amp is a Peavy Transtube FX Combo 112. 80W (plenty for me), very robust and reliable... 2 channels (clean & lead) and again built-in effects with remote switching. I bought it intending to use it without external effects, but now have a Boss ME-50 effects pedal and Roland guitar synth, so I just use the Peavy on a very flat, clean setting.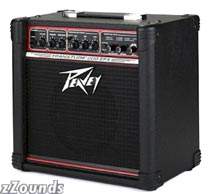 For years I played a 1970's Sound City valve amp, but eventually sold it in favor of the convenience of a modern combo.