National Valco Map bass, fiberglass construction ,hollow body, A piezo pickup ( a first ?) short scaled.
A 1890 era ,yes 1890 era Washburn sized "O" acoustic, the odd thing on this guitar is the string spacing at the D and G strings, I assume because guitars were a "novelty" as Banjo and Uke's were the preferred stringed instruments of the day (go figure).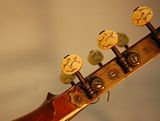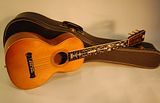 really nice guitar though.
Oh yea ,Mahogany was an extra up charge.